The NZBWN mentoring programme enables network members to get started on their own individual journeys to overcome challenges, seize opportunities, and realise their aspirations.
Programme One
Growing your Career - Against the odds - Applications Open
We are thrilled to offer you this opportunity to participate in our upcoming mentoring group: "Growing your career - against the odds", starting on the 9th of September 2019.
We all experience bumps in the road during our career and sometimes despite our best efforts it feels like we aren't getting anywhere. With life pulling us in all directions sometimes it feels like we have to make a choice between home and work.
Over 6 sessions you will work with your mentor and 5 other women to help you get clarity on your career and find the little steps that will get it moving in the right direction. By supporting the other women in your group you will get the support you need to navigate the difficult complexities of work and life, and to find the mix that will benefit you inside and outside work.
Dates: Fortnightly sessions starting 9th September 2019
Group times: 6:30pm - 8:00pm
Location: Ozone Cafe, Old Street, EC2A 4AQ
Tickets: £150 for the 12 week programme
Your mentor: Jude Sclater
Jude Sclater is a p
erformance coach who helps organisations and individuals do business better. She finds it inspiring working with people to help them become clearer about their vision and she gets a real kick out of seeing people achieve more than they ever imagined possible.
Her own career journey has taught her that anything is possible. She went from studying psychology and information systems at Victoria University, to teaching English in Brazil, to being an auditor and project manager before heading back to university to do a Masters in Organisational Behaviour at Birkbeck. After 8 years as team and leadership development specialist at Deloitte she now runs her own consultancy, Think with Jude.
Programme Two
"Mind the Gap" - Applications Open
Finding your purpose and navigating your way back into the work force.
This programme's theme will straddle two concepts of re-entering the work force after a career break, as well as explore what it is you really want to be doing.
Claire will be covering what gets in the way of us doing what it is we really want, as well as where fear really comes from and how we can be our best selves consistently, in spite of those feelings.
Dates: Mainly Fortnightly sessions starting 3rd September 2019 (please see application link for complete list of dates)
Group times: 6:30pm - 8:00pm
Location: NZ House, Haymarket, SW1Y 4TQ
Tickets: £150 for the 12 week programme
Your mentor: Claire Sewell
Wi
th over 15 years in the corporate world in sales and business development, Claire has spent 10 years leading and coaching sales teams. With a lifelong interest in human potential and its variances, Claire has spent the last five years studying thought intelligence and its impact on performance and our ability to operate at our best, more consistently.
Claire has an ability to connect on a deep level with people, understand their fears, challenges and concerns and point them in a more powerful and constructive direction to uncover their limitless potential. Passionate about supporting others to create results, Claire's clients gain insights leading to genuine transformation in the areas of career development, peak performance, creativity, leadership and understanding who they truly are and what they're capable of.
Programme Three
Start Up & Scale Up - Applications Open
We are thrilled to offer you this unique opportunity to participate in our upcoming Start Up & Scale Up mentoring group, starting on Wednesday 11th September 2019.
This mentoring programme is for you if you have started your own business or are already running a business and are looking to grow and scale. Topics can be tailored to cover the needs of the group and can include the journey of developing a business and learning the essential influences and skills for taking your business to the next level.
Dates:

Fortnightly sessions starting Wednesday, 11th September 2019

(please see application link for complete list of dates)

Group times: 6:30pm - 8:30pm
Location: TBC - Central London
Tickets: £150 for the 12 week programme
Your mentor: Joanna Alpe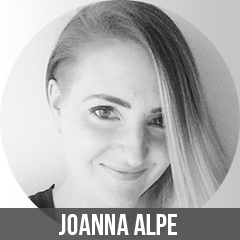 Joanna had a misspent youth photographing the biggest acts of the 00s like Bjork, Rage Against the Machine, Dizzie Rascal, Kasbian, Arcade Fire and many more. A few companies later, she led the founding of Makelight - an innovative mobile special effects & audience insight platform that turns people into pixels in 2012.
Under her leadership, Makelight was named in the Startup's 100 list in 2014 and Joanna was personally named as one of the Top UK Digital Innovators for her achievements founding Makelight. She led the company to win multiple Event Technology Awards including winning a place for Makelight in Telefonica's prestigious Wayra UK academy in 2012. She has raised investment in the UK and in Silicon Valley and lead the commercial advancements of the company, exporting Makelight Mobile Special Effects to the USA and beyond. She was also a member of the Tech Crunch Disrupt winning hackathon team in 2015 and 2016. She was awarded an exceptional talent in digital innovation endorsement from Tech Nation.
Joanna now works as a startup mentor, strategic advisor and consultant to technology driven projects, while also speaking internationally and guest lecturing on entrepreneurship and creative technology.